Looks like your ad-blocker is on.
All content on our site is
free
and
will always be free
.
Please consider supporting us with disabling your AdBlock software and to gain access to thousands of free content!
Not sure how to disable AdBLock? Follow this tutorial:
How to disable AdBlock
Apex Legends Hacks Undetected Free
Apex Legends Aimbot Hack | AimAssist ,NoRecoil, AntiShake & TriggerBot v1.0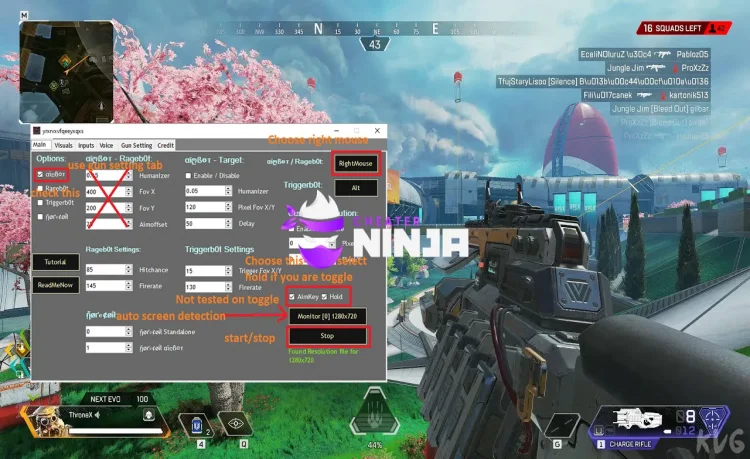 Thanks to the Apex Legends Aimbot Hack, you will have a lot of features in apex legends. You will do more than normal players can do. You will do near impossible things. There is no doubt that you will easily hunt your opponents and have high ranks. If you want to be the last survivor team, don't forget to recommend it to your friends.
The Apex Legends Aimbot Hackis convenient and reliable. You can follow it on our website as it will be updated frequently. Also, don't forget to check out other Free Apex Legends Cheat and Hack content on our site. Let's move on to other features of the Apex Legends Aimbot Hack if you wish.
How to Use Apex Legends Aimbot Hack:
First of all, scroll down below to find the download button. Click on it and download Apex Legends Aimbot Hack
Extract all of the files from the RAR archive that has been downloaded and paste them into a folder of your choice
Rename the files that are called "changemyname" to avoid detection by Apex Legends
Start Apex Legends
Navigate to the folder where you have extracted all the files
Either run the full or the light version of the Apex Legends Aimbot Hack (Light version only has AimAssist)
Check the features that you would like to use
Enjoy & have fun
Visual Guide
Full Version
More About Apex Legends Aimbot Hack
Change the program name (changemyname.exe) to something else.
Use the Apex Legends Aimbot Hack at you own risk, but this is not messing with the game memory and its just a fully external program so you are almost safe.
If it doesn't find the suitable resolution file for your screen
you have to make a custom resolution file yourself or use one of provided resolutions.(1280×720/1366×768/1920×1080)
I provided a template of these resolutions but you need to fix pixel coordination for these resolutions yourself (its easy it will take 5-10 minutes)
1600×900
1680X1050
2560×1440
3840×2160
(To make a custom resolution there are several video on the forum and there is a quick text tutorial
in resolution folder)
Work best on low resolutions and potato graphic using Nvidia Inspector.
You definitely have to work on your own configs and tune the guns for your resolutions to get the best results
If its shaky or swinging while aiming you have to reduce the humanizer for that gun.
(You can increase the humanizers up to 0.4 or more without shaking on 1280×720 so its one of the best resolution in my tests)
If it drag the gun down you have to reduce "Fov Y" because it drags to red colors and probably there is a red color on your gun or
screen like low on ammo notification or etc.
Comment with the phrase (It doesn't work!!) will not get an answer. You probably want to dissuade people from using assist programs.
(if it doesn't work for you provide me with errors and reasons. To debug computer programs and errors you need evidence)
This is a C# .net framwork program so will need to install proper Microsoft .net framework. but I think you all have it installed already.
Be polite and don't ruin it for everybody *** So I provide you with updates and new creative ideas in future.
No recoil is remained from baseult project and its not a pattern base no recoil (better not use it)
(use an AHK no recoil or etc. with this program)
This is a creative color aim-assist and it aim on RED pixels in game (through golden scopes and blood hound Ultimate) So every unwanted mouse movement is because the gun is not tuned (There are tons of options provided to fix it)
So don't comment it aim at ground etc. nonsense (Just read what I wrote and understand how it works and tune the guns and settings)
Known bugs: #1 Weapon Auto-Cycle on empty option in game will change your gun automatically so the code don't know the gun is switched .You have to press 1 or 2 again after weapon auto-cycle or just disable this option. (I'll fix it late)
#2 After going to inventory and changing stuff like golden attachment or weapon slots you have to press 1/2 to to detect weapon changes and attachment changes (I'll fix it later)
Archive Password: 123