Looks like your ad-blocker is on.
All content on our site is
free
and
will always be free
.
Please consider supporting us with disabling your AdBlock software and to gain access to thousands of free content!
Not sure how to disable AdBLock? Follow this tutorial:
How to disable AdBlock
Phasmophobia Hacks Undetected Free
Phasmophobia Project Rencify Hack Free Download Best 2021 | Phas v0.4.1.1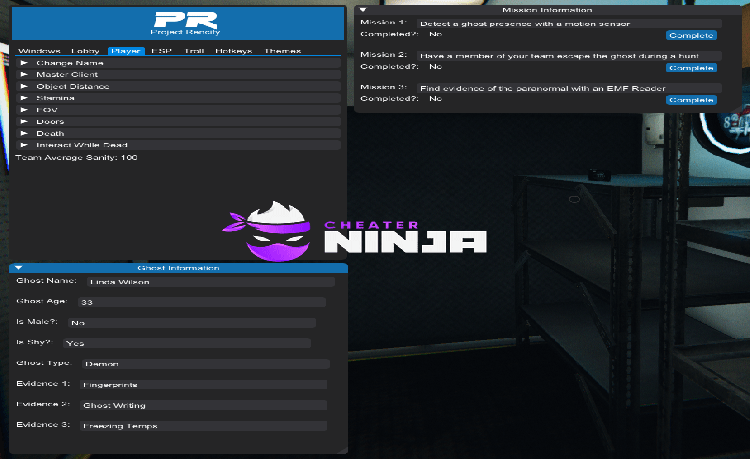 Phasmophobia Project Rencify Hack is an internal menu with advanced opetions including Player & Ghost ESP, Trolling Features any many more…
Phasmophobia, a great ghost hunting, crime investigating horror game that can be played with friends and family with its multiplayer game mode. But what game is fun without using cheats? Well, maybe single player games but you get the point. With this Phasmophobia Project Rencify Hack, you will have access to pretty much evey single cheat feature you have seen in other phasmophobia hacks. It has a really modern GUI which uses ImGUI DX11 hook with very modern animations as well.
How to Use Phasmophobia Project Rencify Hack
Download the Phasmophobia Cheat
Extract the dll from the archive
Download an injector from our website
Start Phasmophobia
Inject the dll into the game
Press Insert [INS] to toggle the menu
Phasmophobia Project Rencify Hack Features
Lobby tab

Force Start Game (Must be host and have selected card)
Check who is the host

Player Tab

change name
Object Distance (Grab & Throw Distance Modifiers)
Infinite perseverance
Field of view changer
Go through doors
Suicide
Interact while dead (only works properly if you use suicide first)

ESP Tab

Player ESP
Ghost ESP
Ouija ESP
Bone ESP
Fuse ESP
RGB color changer (cause why the hell not)

Troll Tab (Please don't ruin the game for others, be smart with it)

Ghost notes
Move prop
Move door
Ghost event
Soundboard (Fake Ghost Event, Locked Door, Unlocked Door)

EXTRAS

Ghost Information Window (Displays ghost information and the target of the banshee if the ghost is a banshee)
Mission Information (Shows mission information and you can complete / complete missions, but they will not be shown on other's screen)
Ghost Hunt Notification (Appears when the ghost is on the hunt and has stopped hunting)
"Hotkeys" tab (changing hotkeys for various functions, etc.)
+Themes tab (change the color of the menu design using presets or customize your own)
Archive Password: 123