Looks like your ad-blocker is on.
All content on our site is
free
and
will always be free
.
Please consider supporting us with disabling your AdBlock software and to gain access to thousands of free content!
Not sure how to disable AdBLock? Follow this tutorial:
How to disable AdBlock
Genshin Impact Cheats Detected Free
Genshin Impact Cheat Table v2.2 [Cheat Engine] 7.3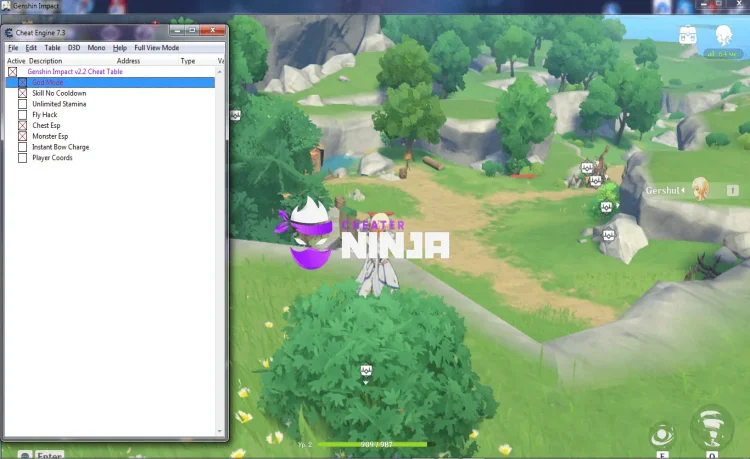 Genshin Impact Cheat Table has been developed to provide you the superiority of the game thanks to its features such as Godmode, No Cooldown, Fly Hack. Use at Own Risk as this free Genshin Impact Cheat contains powerful features.
For more Free Genshin Impack Cheats and Hacks you can visit our Category.
Genshin Impact Cheat Table removes all your worries about whether a cheat or hack contains malware/virus. Because it is a Cheat Table coded for Cheat Engine, you can simply play the press edit and see the whole source and make sure the files are completely safe. A cheat table cannot contain malware anyway, as the script can only interact with the values ​​and offsets of the process selected in the Cheat Engine.
Now that the mhyprot2 is closed, you can run the Genshin Impact Cheat Table with Cheat Engine and enjoy the game :))
Genshin Impact Cheat Table Features
Godmode
No Skill Cooldown
Unlimited Stamina
Fly Hack
Chest ESP
Monster ESP
Instant Bow charge
Player Coordinates
Developer Notes
P.S. 1: Played on a twink for about an hour has not flown off yet.
Who understands the profit from such cheats? for example, on the basis of Esp to chop up and for what you will get a guaranteed ban?
P.S. 2: Infinite stamina works but nothing is activated …
P.S. 3: With instant charging of the bow ults are not activated, well, the bow itself does not charge elemental energy …
P.S. 4: Fly hack flight is not activated if the character is standing on the stream of air …
Archive Password: 123