Looks like your ad-blocker is on.
All content on our site is
free
and
will always be free
.
Please consider supporting us with disabling your AdBlock software and to gain access to thousands of free content!
Not sure how to disable AdBLock? Follow this tutorial:
How to disable AdBlock
BloodHunt Hacks Detected Free
Free Bloodhunt Internal Cheat 2021 (ESP & Aimbot)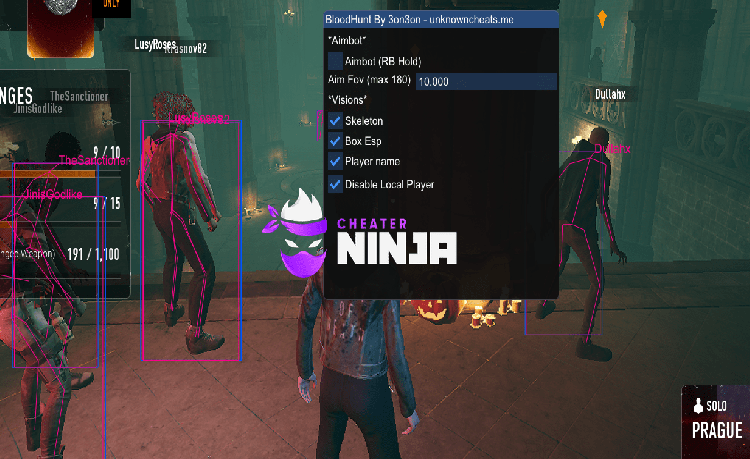 Free Bloodhunt Internal Cheat is a simple featured Best Hack for Bloodhunt with functions like Aimbot and ESP which is Undetected at the moment
Free Bloodhunt Internal Cheat might just be the Best Free to Download Hack for Bloodhunt. It has every simple and useful feature that you would require in the game in order to win every single match you play and dominate every single enemy you play against.
Free Bloodhunt Internal Cheat Features
Aimbot

Aimbot [Hold Right Mouse Button (RMB)]
Adjust Aimbot FOV

Visuals

Skeleton ESP
Box ESP
Player Name
Disable Local Player [Disables ESP for your character]
How to Use Free Bloodhunt Internal Cheat
Since this Free Bloodhunt Internal Cheat is in a DLL (Dynamic-link library) form, it is required to use an injector in order to inject the cheat into Bloodhunt and use it. If you do not know how to do such a thing, just follow these steps that I have prepared for you and you'll see that it is super easy!
Download this Bloodhunt Internal Hack that you can find the download button to down below
Download this Bloodhunt Hack Injector
Using an archive extractor tool, extract the DLL into the same folder as the cheat itself
Now that you have everything you need, simply launch Bloodhunt and use the injector to inject the DLL file into the game
Enjoy & have fun!
Developer Notes
Hello everyone!
I want to share my simple cheat with you guys and i'm planning to add more visual features and improve the aimbot (when i have time).
Hotkey (insert) / Resolution: Bordless.
if there is any suggestions, please feel free to comment below.
Archive Password: 123