Looks like your ad-blocker is on.
All content on our site is
free
and
will always be free
.
Please consider supporting us with disabling your AdBlock software and to gain access to thousands of free content!
Not sure how to disable AdBLock? Follow this tutorial:
How to disable AdBlock
GTA 5 Cheats Undetected Free
GTA 5 Online Hack 1.58 | Pulsive Mod Menu v2.7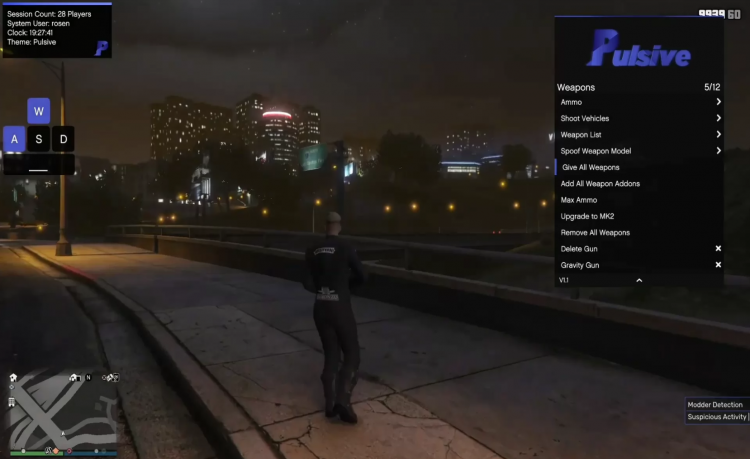 Pulsive Mod Menu – GTA 5 Online Hack prepared for online hacking.Thanks to the privileges of the cheat, you can reach even higher levels in the game. You can be sure that it will be updated frequently. This Free Gta 5 Mod Menu has many features and these features offer you privileges and advantages in the game, but you should know that using some god mode features is at your own risk.
Cheating in Gta 5 Online Hack is really dangerous, so I advise you not to exaggerate when using money and rank features.As you know, GTA 5 has recently released an update for Online and it has been upgraded from 1.57 to verison 1.58, so one of the GTA 5 ModMenus has been DETECTED. That's why many developers are still trying to update their DETECTED GTA 5 Online cheats and This Free Pulsive Mod Menu developer "0x0CD0" has released a quick update for you and This Mod Menu has been made completely safe, that is, UNDETECTED. If you need help, you can reach us on our Discord Server.
How to Use GTA 5 Online Pulsive Mod Menu
Downloading, installing and using the GTA 5 Online Pulsive Mod Menu is actually fairly easy. Although if you are new to modding, following these simple steps I prepared for you might help you out.
First of all, download the mod menu by clicking on the red download button at the bottom of the page
After the download prcoess has finished, extract the GTA 5 Online Pulsive Mod Menu's files from the RAR archive and paste them into a directory / folder of your choice on your device.
Start GTA 5 via Steam, Epic Games or Rockstar Games Launcher
Navigate to the directory where you extracted the files
Run the Pulsive.exe
Generate a key, if necessary
Enjoy & have fun!
Archive Password: 123